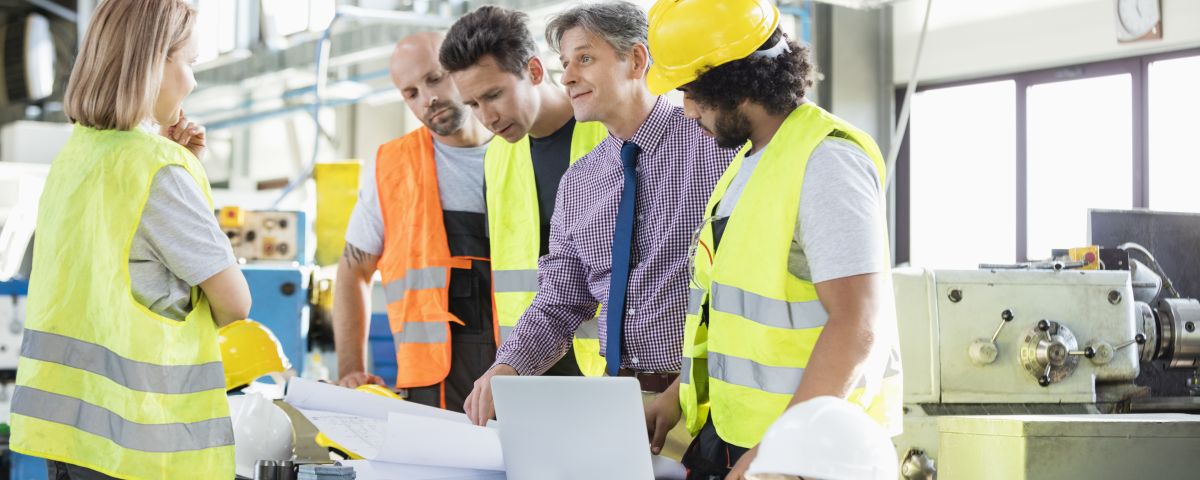 How Innovation in Companies Succeed: Innovator creates the product of the future in just two days during probationary employment
Or: From Probationary Innovator to Proven Innovator
Jakob Jessen* is an industrial engineer. Throughout his professional life, he has been active as a consultant in the industrial sector: automotive, plant engineering, mechanical engineering, aviation. Always on the move. Always highly motivated and ambitious. A professional career full of insights and experiences that other jobs can hardly offer. But also, a career with enormous challenges. Constant business travel. Life out of a suitcase. Always on under the customer's observation – on probation. Always sowing the seed of success and never being there when it is harvested. Because by then, you are already on the next project. Hundreds or thousands of kilometers away.
Jakob Jessen wants to share in the successes he brings to a company

That is about to change. Jakob Jessen is now 40 years old and has been providing consulting for a renowned plant engineering company for 3 months. The company develops and manufactures systems for the pharmaceutical industry and is the market leader in its core business. Jakob Jessen is in charge of product management. That has always been his dream job. Sow successes AND reap them. Work on long-term successes and implement the results. Bringing strategy and operations together. But first, he is back on probation. New company. Probationary employment period. No tangible successes yet. In order to establish himself in his role, the native of Hamburg, Germany wants to make a terrific start to lay a foundation for subsequent years of successful work.
Enterprise Innovation is on everyone's lips – but it's not a simple topic
Innovation. It's an essential part of his job as head of product management. And very much a topic suitable to attract attention and make a name for himself. But that's not easy either – not in times when everyone wants to be innovative. Buzzwords are flying everywhere. And in an industry that seems rather old-fashioned. There is no shortage of ideas in the company. On the contrary, there are plenty of ideas. Unfortunately, most are incoherent. There is a remarkable diversity of granularity, maturity and level of innovation among them. And there are even so many that they are already being forgotten. The feasibility is usually unclear. And what does the customer really want? That's very clear either. But simply asking is also easier said than done. After all, the customer does not know the answer. But can you know more than the customer? Recognizing and solving needs that the customer himself is not aware of? And all that when almost every solution will soon be available from the Far East anyway – and just good, faster and cheaper?
Immediate Innovation Assistance
Is Innovation in your company your biggest challenge? Learn from the mistakes of companies like yours.
Innovation needs many supporters
A big challenge. Many unresolved questions. But Jakob Jessen is not alone. Sales, marketing, innovation management, development, production, company management: everyone has something to contribute. And TOM SPIKE is also at your side. The TOM SPIKE team  supports technology companies on their innovation quests and ensures their success. TOM SPIKE is familiar with the challenges facing Jakob Jessen from the numerous innovation projects it has already successfully supported – and therefore knows how overwhelming conflicting opinions be. Everyone has an idea. Nothing fits together. You don't see the forest for the trees and just don't know where to start. But experience from over 50 major innovation projects has taught TOM SPIKE that there is always a path to success. Guaranteed.
Thorough orientation and a clear plan speed up Company Innovation
In this case, we recommend a clear, 3-phase plan.
Activate and assemble the most important stakeholders and ensure that everyone has a consistent picture of the situation and the goal – or in other words, make sure that they are "on the same page".
Determine which product should be sent into the future based on expert assessments from within the company.
With a diverse team of experts and executives, now board the time machine and travel into the future. See the future. Create the future.
Product Vision Workshop "Time Machine"
Formulate a crystal-clear product vision – in just a few steps! For all development and innovation work to pull in the same direction.
Jakob Jessen still isn't completely convinced
Like many other pioneers and innovators, Jakob Jessen would like to develop a convincing solution that will impress the company's management. Yet, after all, innovation is an uncertain endeavor, and you don't want people getting a look at your cards too soon. But TOM SPIKE knows from experience that this attitude too often leads to failure. Even the greatest idea might not persuade others when you spring it on them. Especially when it requires support from other departments, affects the priorities of other business areas and decision-makers not involved from the outset. In order to guarantee the highest chances of success, company management and all affected departments must be on board. From the beginning. Sounds perfectly logical. But Jakob Jessen is not immediately convinced.
Once a new idea has "crashed and burned", a company may be reluctant to innovate for a very long time
The stakes are high for Jakob Jessen. If the project fails, his credibility will suffer. Even if it doesn't cost him his job, the trust he has enjoyed could disappear. He won't have a second chance to make a first impression. As a result, the company may come to regard any innovation in Jakob's area as a "no go" for a long time to come. A new start would be difficult to achieve. In the worst case, the market will learn to disdain or disregard any innovation the company makes. The competition overtakes it and gains a lead that can't be made up for years.
If the innovation works, Jakob Jessen has it made
But what if everything works out? Then the innovation project will go down in company history – and industry history. It will revolutionize the supply chain for the entire sector. Company leaders, department heads, specialists, the whole company: everyone will stand behind Jakob Jessen and any future project he proposes. Because they support innovation. Because many of their ideas are finally being implemented. 10 years of patent protection and competitive advantage. Management will know that with Jakob Jessen they have the right man in the right position. Jakob Jessen will now be on the road to great success in his dream job. Professional fulfillment without weeks of business trips and without constant separation from his family.
If you want to go fast, go alone – if you want to go far, go together!
TOM SPIKE knows this will work. Jakob agrees to give it a try. He gets all decision-makers on board. From managing director to specialist, everyone should be at the same table – a new experience for the company's employees. After laying some groundwork, the big day arrives. Jakob Jessen, the company's technical management, 15 specialists and executives from all departments come together with TOM SPIKE'S team. Together they enter the "time machine" in the company's training center. Initially, many participants are still skeptical. Methodically proposing hypotheses and divining the future? Together as a team? Most people know innovation only as the result of continuous trial and error on the part of the specialists, then this unusual group of participants takes it from there.

Content in-depth and a clear, tangible vision of innovation – after just a few hours
But after working together on customer needs, social and industry trends, technological advances and new business models quickly makes participants forget their initial skepticism. Talk immediately focuses on content in depth. Discussion and ideas overflow. The discipline and professionalism of the format, which develops ideas into coherent images, surprise the participants. Technological ideas, value drivers, customer needs and business model concepts grow together to create ten tangible building blocks of a vision of the future. These include short-, medium- and long-term projects, digitization topics and a very concrete overall vision. In the end, the participants experience a deep sense of accomplishment.

The Future is Within Reach
Ten projects with designated leaders. A common vision. Well-founded, consistent ideas that are not just taken out of thin air, but fit perfectly into the world of today and tomorrow. Jakob Jessen has gathered all those involved behind him and heralded developments for the next decade. Groundbreaking for the company. Groundbreaking for the entire industry. This time, he won't leave until the champagne corks pop. This time he will be there when a vision becomes reality. This time, he will actually REAP what he has SEWN. Jakob Jessen has come home.
*Name changed